Some people will do anything for $1 million — even compete to be America's next top porn star.
That's the premise behind "The Sex Factor," a very NSFW version of shows like "American Idol" or "The Voice" with a big, big difference: the contestants moan and grunt instead of sing Rihanna covers.

The eight-woman, eight-man competition debuts May 19 at theXHamster.com porn website and at SexFactor.com.
At the end of 10 episodes, one man and one woman will each win $1 million and the right to officially declare themselves a porn star.
Kinky contestants are judged by adult performers Tori Black, Remy LaCroix, Lexi Belle, Asa Akira and the lone male, Keiran Lee, whose penis is supposedly insured for $1 million.
Black believes the show will gain viewers from the first episode.

"Whenever you watched 'American Idol,' the audition episodes were the most entertaining," she told HuffPost.
"Sex Factor" creator Buddy Ruben insists the show is more about personalities than porn.
"We're looking for marketable, compelling personalities and want to tell the stories of their failures and follies," Ruben told HuffPost.
You can see a little bit of both in this adults-only clip below.

Ruben has tried to arouse interest in the show since April 2014. He had hoped to sell it to a mainstream media outlet, like Netflix, before his production company was purchased by Xhamster.com, a porn website.

Ten episodes have been filmed. They will be posted every two weeks. In between, viewers can access sex scenes with the competitors, behind-the-scenes clips and bloopers.
As might be expected, the competition for the final 16 sexpots was stiff. (Sorry, we couldn't resist.)


"We've rejected people who've done one scene. Some couples have applied but none have been invited to the casting call," Ruben said. "I would love it if a couple met and fell in love while filming the show."
Black says that no matter what skills people have in their private lives, it's no preparation for professional porn.
"At first, people are over-the-top in their acting or performing, and it looks fake," she said. "People don't relax into being natural, plus positioning the body for the camera is not the same as at home."

Lee — who is being hyped as "the Simon Cowell of porn" for publicity purposes — said that filming porn can be more difficult for the male talent.
"Every guy thinks it's just sex with a hot girl, and if they have problems, they can just take Viagra," he said. "Well, it's psychological. If you're not in the right space, Viagra won't work. Sometimes, you see a beautiful girl, but she ruins it when she opens her mouth or has bad hygiene or smoked right before coming on set."

Women aspiring to be porn stars may be disappointed when they realize it's not all glamor.
"You have to work hard all the time to make it, even traveling on the weekends to far-off locations to feature dance in clubs, only to be back on set Monday morning," Lee added.

Well-endowed men have an advantage in this business, but only to a point.
"Size matters, but it's not the only thing," Black said. "There are several guys working who aren't huge. However, guys who are extra long do have an advantage of angling their penis to the most visually appealing position. Guys who are smaller have to do shorter strokes."

Black suggests wannabe porn stars focus on things like body hair.
"There is a group of people who are into the bush, but if you let it be too jungly, it might turn off the viewers," she said.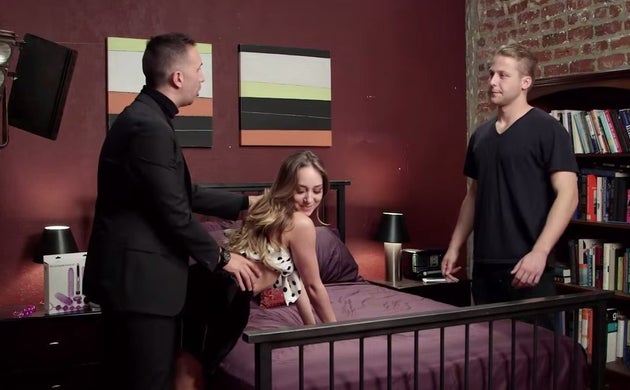 https://www.huffingtonpost.com/entr...7341d19e4b077d4d6f229bf?utm_hp_ref=weird-news